Landslip on A9 at Helmsdale 'undetected for months'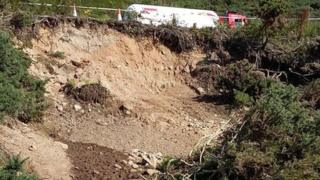 A landslip below a section of the A9 trunk road may have been undetected by a maintenance company for three months, it has been claimed.
Highland councillor Matthew Reiss claimed Bear Scotland's safety inspection regime had not picked up the problem near Helmsdale.
He said it was fortunate the landslip had not been a more serious incident.
Bear Scotland said the road was inspected weekly but small landslips of this type could be hard to spot.
The trunks road operator added: "As soon as the small slip south of Helmsdale was reported to Bear Scotland an emergency response was immediately triggered, with geotechnical specialists inspecting the slope.
"The slip has not damaged the road and the single lane working was introduced as a temporary safety measure. A full repair has been designed and teams are due to begin construction at the start of October which will reopen the A9 to both lanes."
Mr Reiss told BBC Scotland: "I understand from local people that this landslip may have happened two or three months ago.
"I have been told by Bear that there are weekly safety inspections of the road.
"But these simply haven't worked because it is quite obvious that the landslip has been undiscovered, and thousands upon thousands of vehicle drivers have travelled this road unaware the landslip is right next to the A9."
The councillor added: "I don't want to be critical of local Bear staff, they are doing their best.
"But what needs urgent improvement is the safety inspection regime because it clearly has not worked here. It's fortunate there was not a serious accident."
Mr Reiss said he did not "begrudge" improvements to the A9 south of Inverness. These include the dualling of large sections of the road between the Highland city and Perth.
But the councillor added that the northern section of the route should not be "neglected".
Some people living in the area have claimed the A9 north of Inverness is a "forgotten road" which cannot be relied on.
Changes to maternity services for the north Highlands, means many expectant mothers go to Raigmore Hospital in Inverness to have their babies.
Carly Sutherland, from Wick, travelled the A9 while in labour to Inverness.
She said: "It is concerning because you don't know how quick your labour is going to be."
Ms Sutherland later had to get her ill baby back to Raigmore from home for treatment.
Bad winter weather initially prevented this journey by road ambulance, or by a rescue helicopter, before the mum and her child were driven to Raigmore the following morning with a snow plough in front of the vehicle.
Claire Clark, a children and families project co-ordinator in Caithness, said many people in the area relied on the road when travelling to Raigmore for care.
"If the road is shut off for any reason, it is a concern for young mums," she said.
She added: "It is a forgotten road in terms of the winter time. It can be incredibly difficult drive to do."
On the landslip, a spokesperson for Bear Scotland added: "The northern A9 is a vital lifeline route and receives the same level of inspection as any other trunk road in Scotland in accordance with the requirements of our term contract with Transport Scotland.
"We have teams who are dedicated to completing safety inspections every seven days from a moving vehicle to note any defects which are then programmed for repair.
"Additional landslide patrols are also deployed on the route during heavy rain to check for any issues. The recent incident on the A9 is a rare occurrence particularly where the road is to a relatively modern standard."