Opposition to mechanical kelp harvesting off Scotland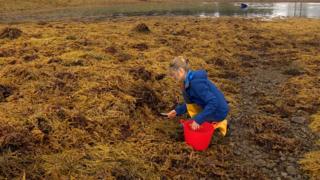 A plan to harvest tonnes of wild kelp on Scotland's west coast is being opposed by local communities.
Ayr-based Marine Biopolymers Ltd wants to extract natural polymers from the mechanically-harvested seaweed to use in foods and pharmaceuticals.
People living in Ullapool, on the north west coast, and the Isle of Tiree have concerns about the plan.
They say commercial harvests would damage marine habitats and destroy a defence against coastal erosion.
Marine Biopolymers Ltd published a scoping report over the summer as part of its work towards applying for a licence.
Allowed to recover
Under the plan, the amount harvested would gradually rise from about 1,300 to 30,000 tonnes over the course of a licence period.
The kelp would be processed at a plant in Mallaig in the west Highlands.
The company said it would avoid sensitive marine environments, and areas of seabed would not be re-harvested within a given time period to allow the seaweed to recover.
It also said that world-leading technology would be used in the operations, which would create "sustainable employment and diversification opportunities" in rural communities.
The company is to hold a consultation on its plan with regulators, councils, communities and other interested groups.
'Makes me livid'
Ailsa Maclellan, who lives in Ullapool and harvests kelp by hand using a pair of scissors and a bucket, has started a petition against the proposed commercial harvesting.
She said: "This makes me livid.
"There are lots of us along the coast who rely on this habitat for our jobs - fishermen, wildlife tourism.
"We should be protecting this."
Dr John Holliday, chairman of Tiree Community Council, said forests of the seaweed provided protection against coastal erosion.
He said: "Kelp is a very big, very important defender of the island's shores against gales.
"The shoreline here is very sensitive. If the kelp defences are reduced then erosion, which we already know is a problem, will get a lot worse."
'Very seriously'
Highlands and Islands Scottish Green MSP, John Finnie, said he understood the need for employment opportunities in rural areas of the west coast.
But he added: "I am very keen to have sustainable employment that is based on a sustainable harvesting regime, not one that is based on an unsustainable harvesting regime."
Ministers are expected to make a decision on the plans following a consultation involving Marine Scotland and Scottish ministers.