Team to walk from seabed to Ben Nevis in diving suit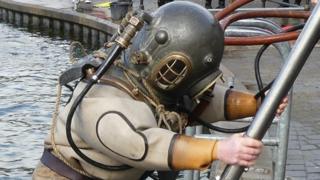 A team of divers are to attempt to walk from the seabed to the summit of Britain's highest mountain while wearing a vintage diving suit.
Saturday's venture is to begin 5m (16ft) underwater in Loch Linnhe at Fort William and finish four or five days later on Ben Nevis' summit.
A relay team made up of Royal Navy divers and civilian volunteers are taking part in the attempt.
They will take it in turns to wear the 80kg (176lb) diving gear.
First person
The suit's design dates from before and during World War Two.
The Sub Sea to Summit challenge was created by Ginge Fullen, a former Royal Navy clearance diver.
He holds Guinness World Records for the first person to climb the highest mountain in every country in Europe and in Africa, and completing the highest peaks in Africa in the fastest time.
The attempt will raise funds for the Historical Diving Society, Lochaber Mountain Rescue Team and the family of former Thai Navy diver Saman Kunan, who died while assisting in the rescue of a football team and their coach from flooded caves in Thailand.
Mr Fullen said: "I wanted to do an expedition so challenging that it will probably never be repeated again.
"After meeting Ty Burton from the Historical Diving Society, we joined forces to make this challenge happen.
"It will be hard going to make it to the summit of Ben Nevis, but knowing we are raising money for such good causes will keep us going."
Subsea training and trials centre The Underwater Centre is supporting the walk.