Investigations into whale strandings in Scotland and Ireland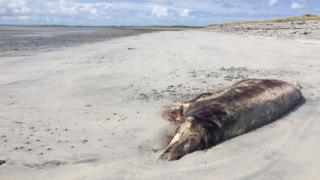 The deaths of 11 whales in strandings in Ireland and on Scotland's west coast last week are being investigated.
Whale and Dolphin Conservation (WDC) said many of the animals found in Scotland were a deep-diving species, Cuvier's beaked whales.
Two True's beaked whales were found stranded in Ireland.
Both the UK and Scottish government have asked experts to look into the deaths, following concerns raised by the conservation charity.
Six of the 11 were found around the Western Isles, including North Uist and Harris, and the others in Ireland
'Extremely seriously'
The UK's Department for Environment, Food and Rural Affairs has commissioned the Cetacean Strandings Investigation Programme to carry out "a full and thorough investigation".
A Defra spokesperson said: "The UK is a world leader when it comes to protecting seas, oceans and marine life."
The Scottish government said the Inverness-based Scottish Marine Animal Strandings Scheme will look into the Scottish strandings.
It said it took its duty to protect "Scotland's iconic marine life extremely seriously", and will consider any findings carefully.
WDC has asked that the investigations look for any human activity that may have caused the whales to come ashore.