Safety improvements at Dornoch Aerodrome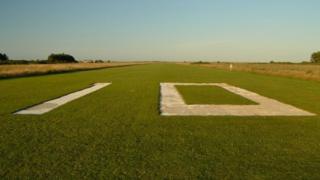 Safety is set to be improved at a small, local authority-run airstrip in the Highlands.
Dornoch Aerodrome, which has a grass runway that is kept trim by a local golf club's greenkeepers, is used for landing light aircraft.
The RAF has sought an agreement from Highland Council on how it is notified in advance of flights.
The local authority also plans to improve warning signs after cars were parked too close to the runway.
Some signage at the aerodrome, which is an area popular with walkers, has been found to be in need of updating or replacement.
'Grace and favour'
Highland Council's Sutherland County committee has been asked to approve the improvements.
The RAF requires notification of flights to and from the airstrip as part of the operation of the nearby RAF Tain weapons range.
RAF and Nato military aircraft crews use the range for training.
Royal Dornoch Golf Club has cut the runway's grass for a number of years as a "grace and favour" arrangement to the council, and local community.
Earlier this year, the club agreed to continue with the arrangement. Highland Council said the golf club's help played a significant part in the operation of the former military aerodrome.