Runrig: 'The unlikeliest of rock icons'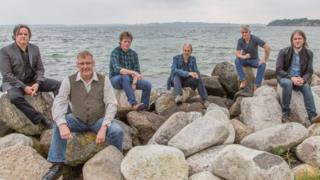 Veteran Scottish rockers Runrig are preparing to play two farewell concerts to mark their retirement after 45 years in the music business.
Tickets for Friday and Saturday's performances in Stirling's City Park sold out minutes after going on sale.
The popularity of the band in the Western Isles led airline Loganair to put on extra flights to Edinburgh and Glasgow to cope with demand.
Bookings on the Stornoway-Ullapool ferry also soared due to the gigs.
Runrig and their Gaelic-language songs also draw a large and loyal following more widely across Scotland, the rest of the UK and continental Europe, especially in Germany and Denmark.
Thousands of these fans, both from the band's Hebridean heartland and beyond, are heading for Stirling for this weekend's events.
---
Who's who in Runrig
During the past 45 years, the band has seen two of its original members leave to pursue political careers - Donnie Munro with Labour and Pete Wishart with the SNP.
Today the band consists of songwriters Rory and Calum Macdonald, along with Skye guitarist Malcolm Jones and drummer Bayne from St Andrews.
Lead vocalist, Nova Scotian Bruce Guthro, joined in 1998 followed by keyboard player Brian Hurren from Falkirk.
---
'Purple suit'
The supergroup, in the early days, started out as a dance band playing to small but enthusiastic, and sometimes brightly-dressed, crowds in village halls.
Runrig were founded in 1973, taking their name from a historic system of farming that was used for hundreds of years in the Highlands and Islands.
Fan Alex Salmean, from the Hebrides but who now lives in Edinburgh, attended a gig in Lochmaddy in North Uist in August 1973.
He says: "I remember going to the little shop across the road from Lochmaddy Hall and there was a little advert pronouncing that the Runrig dance band was coming.
"And I thought to myself 'This is an opportunity to put on a purple suit I had bought'."
Runrig's fan base has steadily grown over the years. And over that time, the band's sound changed with the times.
By the 1990s they were enjoying UK chart success with Gaelic songs.
In 1991, the band played to 50,000 people at a music festival at Balloch Country Park on the shores of Loch Lomond.
And in 1995 the track An Ubhal as Airde reached number 18 in the UK charts.
Runrig teamed up with some of the biggest names in the business, playing support to U2, The Rolling Stones, Rod Stewart and Genesis.
The band's own gigs and festivals have attracted thousands of people in their own right.
In August 2007, 17,000 people stood in mud and pouring rain at Drumnadrochit for the band's Beat the Drum Festival.
A similar number attended Runrig's two-day Party On The Moor 40th anniversary event at the Black Isle Showground in Muir of Ord, near Inverness, in 2013.
'Songs spoke to people'
While many of their fans are Gaelic speakers, Runrig's music has wide appeal.
Among their many international fans was Nasa astronaut Laurel Clark, who died in the Columbia space shuttle disaster in 2003.
The 41-year-old US Navy officer discovered the band's music while stationed at Holy Loch on the Firth of Clyde and she had planned to write an article for their fanzine.
While she was in space, a Runrig song called Running to the Light was played and she told Mission Control in Houston, Texas, how it reminded her of her husband Jon and her time in Scotland.
Columbia broke up as it returned to Earth, killing Clark and her six fellow astronauts on board.
The Runrig CD she had brought with her into space was found in a field in Texas.
Lochaber-based musician Mary Ann Kennedy said Runrig's songs resonated with a wide variety of music fans.
"They were never trendsetters," she says.
"But what they had was roots and a way of looking at the world that pulled politics, spirituality, environment, people, language, all these things together.
"Their songs spoke to people."
'Cheer in our hearts'
Broadcaster and journalist Iain Macdonald, who has followed the band's fortunes over the years, said Runrig's music introduced many people to the history, culture and politics of the Highlands and Islands.
He says: "They take those issues way beyond the Highlands and, as we know, way beyond the shores of the UK for that matter.
"People know about Highland issues, some of them particularly related to the land and the language, because of Runrig."
In 2016, Runrig released their 14th and final studio album, The Story, featuring 11 tracks to help "bring curtain down on a remarkable and unique recording career".
Runrig superfan Darrin Sutherland, from Caithness, says he and other fans will be feeling mixed emotions this weekend.
Of what his initial feeling will be attending the farewell concerts, he says: "Sadness because I know when we walk away from the park on the Saturday night, that's it.
"Before, you were able to look forward to a gig two or three years down the line. But we now know that it's over."
But he adds: "We will still leave with a smile and a cheer in our hearts."
Asked what Runrig's legacy will be, journalist Macdonald says: "It will be as the band who changed everything in a Highland sense, and arguably in a Scottish sense, for putting major Highland issues front and central.
"The unlikeliest of rock icons in many respects, but the very likeliest and very best of rock icons in a Highland sense."