Plans for car park at Glenfinnan Viaduct Harry Potter hotspot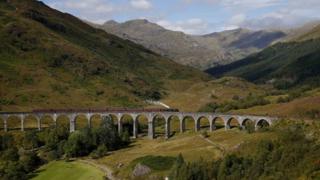 Plans have been submitted for a new car park in Glenfinnan for tourists who visit to see a location from the Harry Potter films.
Thousands of visitors arrive to see the Glenfinnan Viaduct and a steam train that operates on its railway line. Both feature in the movies.
Glenfinnan Community Council said a lack of parking had also become a health and safety issue.
It said vehicles were currently using verges along the A830 for parking.
'Grumpy local'
The council's Ingrid Henderson told BBC Radio Scotland that people were "abandoning" their vehicles on the Fort William to Mallaig road, as well as on smaller nearby roads, in "sheer desperation" to see the train.
She said: "None of us wants to be the grumpy local that is chasing people away, but there is a real safety concern.
"It's been highlighted by some of the local hauliers as to how people are abandoning their cars on the main road.
"With the smaller roads into the village, if an emergency situation should arise and we need a fire engine or an ambulance, you just wouldn't be able to get them down those roads."
Trespassing offences
Safety concerns have been raised previously about the actions of some fans of the films, which were adapted from the books about the boy wizard and his friends by author J K Rowling.
Last year, it was revealed that fans risked death by wandering on to a railway line to take photographs of the Glenfinnan Viaduct.
British Transport Police said the incidents played a part in a 16% rise in railway trespassing offences in Scotland in 2016.
BTP issued a fresh warning for people to stay away from the area of the West Highland Line.
In 2015, a couple and their child were among those were seen running on the railway line.