Design sought for new deep-water port at Stornoway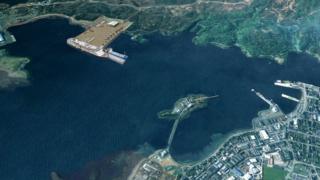 Bids have been sought for work to design what has been described as one of the biggest projects ever undertaken in the Western Isles.
Stornoway Port Authority in Lewis is developing proposals to create a deep-water port as part of its 20-year master plan.
Under the plan, the design would be completed by May next year.
The port authority hopes construction can begin by the end of 2019 to be completed by June 2021.
A deep-water facility would allow large ships to berth at Stornoway, which was visited by 43 cruise ships last year.
Currently, passengers from large cruise ships are brought ashore by a small tender.
Stornoway Port Authority has estimated that the new port would attract an additional 35 to 40 cruise ships a year.