Otter found dead in fishing gear in loch near Aviemore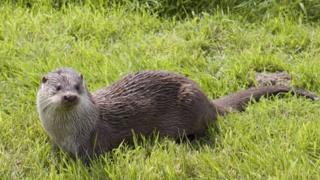 An otter has been found dead in the Cairngorms in what police said appeared to be old, discarded fishing gear.
The animal, an adult male, was found in the small loch near Aviemore on 9 August. Otters are protected under the Wildlife and Countryside Act.
Local police wildlife officer PC Gary Dunlop said it was an "unfortunate incident".
He said: "Although the net is old it was still in a condition to cause the death of this animal."
The officer added: "We would ask anyone visiting a loch in the area to respect the countryside and take away whatever they bring with them, including disposable food containers.
"Local landowners have been contacted, made aware of the incident and fully support this message."