Arctic harp seal found dead in Balmedie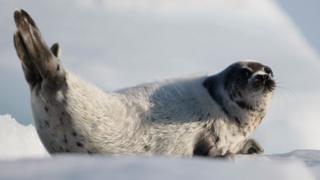 A young harp seal has been found dead on an Aberdeenshire beach just months after one was found in Skye.
Harp seals are an Arctic animal and a rare visitor to Scottish waters.
The seal was found at Balmedie, near Aberdeen. Its cause of death has still to be investigated by Scottish Marine Animal Strandings Scheme (SMASS).
The discovery of the animal last month follows another young harp seal being found washed up in the Isle of Skye in May.
From the Skye seal, a small piece of plastic was recovered during a necropsy carried out at SMASS's Inverness lab.
The 6cm (2in) square fragment had been stuck for some time in a part of the animal's stomach which empties into the intestines.
Scientists at SMASS said the plastic may have played a part in the seal's death.