Dry weather forces cancellation of Highland Games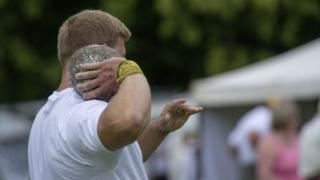 The summer's long spell of dry weather has forced organisers of a Highland Games to cancel this year's event.
Invercharron Highland Games in Bonar Bridge has its roots in a gathering first held in 1888, and has been held in its current format since 1981.
The dry conditions have slowed the growth of grass and in turn the cutting of hay in the field used for the games.
Organisers said they regretted having to cancel, but understood the farmer's position.
The games in Sutherland were due to be held on 15 September.
In posts on social media, the games organisers said: "It is with severe regret that the Invercharron Highland Games has had to be cancelled this year.
"The farmer, whose field we use, grows his winter feed hay crop in the field and because of the exceptionally dry weather we have had, the crops are growing too slowly and as a result he will not be able to harvest before the games and the feed is urgently needed.
"There is not enough time for us to find another field nor apply for a new public entertainment licence so we have no alternative other than to cancel this year."
Farmers and crofters have had to deal with different extremes of weather this year.
It began with a prolonged spell of wet and cold conditions, followed by little rain which has affect grazing and the growing of fodder.
Highland Games are famous for their Heavy events, such as tossing the caber, shot putt and hammer throwing.
WWF Scotland said it was not uncommon for events in Scotland to be cancelled because of rain, but "very unusual for them to be called off due to hot weather".
Dr Sam Gardner, acting director, added: "We have seen the devastating impacts of a runaway heat wave in many parts of the world this summer, and Scotland's own very dry weather has started to bring home the reality of climate change."