Over the world to Skye: New Zealanders' epic trips to isle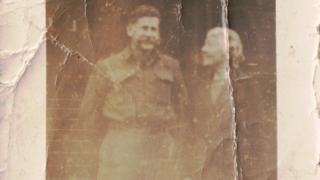 New Zealander Dr Hannah Bulloch is in Scotland to research a book she is writing based on trips her grandfather made to the Isle of Skye. BBC Naidheachdan's Annabel Maclennan caught up with her at the Scottish Creative Writing Centre at Moniack Mhor, near Inverness.
Hannah's grandfather, Alan MacLeod MacLeod, grew up hearing stories of his grandparents' emigration from their home in Skye to New Zealand.
She said: "They spent three months at sea, and my grandfather wanted to emulate this journey."
His first chance to visit his ancestral island home came after the end of World War Two in 1945.
He had served as an artilleryman in Italy and after the end of the conflict in Europe he took the chance to travel to Skye.
Hannah said: "In Skye he met Dame Flora Macleod, the Clan Macleod chief, at Dunvegan Castle.
"She invited him to come back some day with his family."
In 1962, the lure of Skye led Alan to build a "house truck" on his family's farm in Dunedin, New Zealand, for a journey undertaken the following year.
He cannibalised parts from various vehicles, including the chassis from a military armoured scout car, the cab from a city bus and a tractor's engine.
The completed vehicle was later transported by ship to Singapore, before the long drive across Asia and continental Europe.
In preparation for the journey, Hannah's grandmother, Joan, spent days canning more than 400 tins of pork.
Alan and Joan's six children, including Hannah's mother who was then 16, did chores to raise money for the trip.
Hannah said: "My grandfather worked out that it would be cheaper to take his whole family with him than enrol the kids in boarding school."
The months-long road trip took the family over bulldozed tracks in Malaya.
In India, the house truck "careened" off a road and it was a few weeks later before the journey could be resumed. The family travelled through Pakistan, Iran and Turkey and then across western Europe.
Eventually, the family arrived in Skye.
Hannah said: "They hadn't had a bath for 10 days and Dame Flora Macleod invited them to take a bath in the castle."
The family also dined at the castle, and took a boat trip with the clan chief on a loch.
But one adventure-filled trip to Skye was not enough for the New Zealand Macleods.
Hannah said: "They repeated the trip in 1967, taking a similar land route."
But for the return journey, Alan finally managed to emulate his grandparents' journey by sea.
Hannah said: "They bought a rusty old fishing trawler in Wales and, using the kids as crew, sailed home to New Zealand."