Call for more capacity on Western Isles ferry routes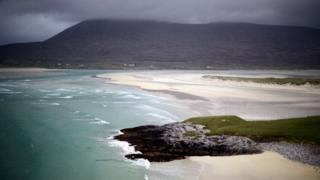 Tourists who have booked holidays at short notice to the Western Isles can face difficulties getting there by ferry, a tourism group has said.
Outer Hebrides Tourism said ferry operator Caledonian MacBrayne was doing the best it could to meet increased demand with the resources available.
It has called on Transport Scotland to help CalMac by investing more in it.
Transport Scotland said it was aware of capacity challenges at peak times on CalMac's Clyde and Hebrides network.
It also said that more than £1bn had been invested in the services since 2007.
'Getting worse'
Ian Fordham, of Outer Hebrides Tourism, said the islands were "open for business as usual", but visitors taking cars were having to book space on ferries well in advance, or be flexible in their travel arrangements.
He told BBC Radio's Good Morning Scotland programme: "Every year we have a real issue with capacity on ferries to the Outer Hebrides.
"They really cannot cope with getting the visitors across with cars and every year we have the operator telling visitors to book ahead.
"When people want to come at short notice they can make a booking for accommodation, but they cannot get their car on the ferry.
"It does seem to be getting worse year on year."
Mr Fordham said visitors were drawn to the islands' landscapes and heritage.
He said: "Tourism on the Outer Hebrides is growing significantly. It is worth £65m a year to the local economy."
'Local feedback'
Transport Scotland said officials recently discussed capacity issues with senior management from CalMac at a meeting of the Hebrides Ferry Stakeholder Group.
A spokesperson said: "Over £1bn has been invested in ferry services across the Clyde and Hebrides since 2007, including the MV Loch Seaforth and harbour upgrades at Stornoway and Ullapool.
"We are continuing to invest in new vessels and ferry infrastructure to renew the fleet.
"Work is also already underway to appraise, and subsequently to deliver on, further improvements to the ferry services to the Western Isles, including the important Ullapool-Stornoway route."
The spokesperson added: "Following local feedback last year, extra sailings have been incorporated in timetables for this summer, including on the Stornoway-Ullapool route, and the introduction of the new Mallaig-Lochboisdale service, the deployment of the MV Isle of Lewis to Oban-Castlebay, and using demand management measures around the network, will all help alleviate forecast pressure on services to the Western Isles."