Refloated ship MV Priscilla can continue its journey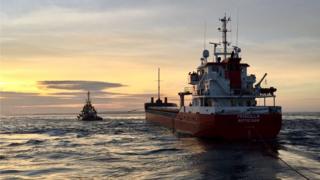 A cargo ship that sparked a salvage operation after running aground more than a week ago has been allowed to continue its passage south.
Inspections revealed MV Priscilla suffered only minor damage after becoming stranded in the Pentland Firth.
The ship with six crew members on board became stuck on the Pentland Skerries on 18 July.
It was refloated at high water on Wednesday evening and towed to Orkney.
The Maritime and Coastguard Agency (MCA) said a dive inspection had revealed some minor damage which does not affect the structural integrity of the vessel.
The salvage contract was terminated on Friday and the ship was passed back to its owners.
The ship will now be allowed to continue its passage to Silloth in Cumbria with its remaining cargo under various strict conditions, the MCA said.
Part of the ship's 3,300 tonne cargo of fertiliser was offloaded onto a barge during the salvage operation to lighten the vessel, while 28 tonnes of oil were also removed ahead of the refloating.
An MCA spokeswoman said: "Following discharge in Silloth, the owners will submit their future passage plans to take the vessel to a repair yard.
"The MV Priscilla is currently safe at anchor in Scapa Flow and awaiting suitable weather conditions for the passage."