Consortium appointed to salvage grounded Priscilla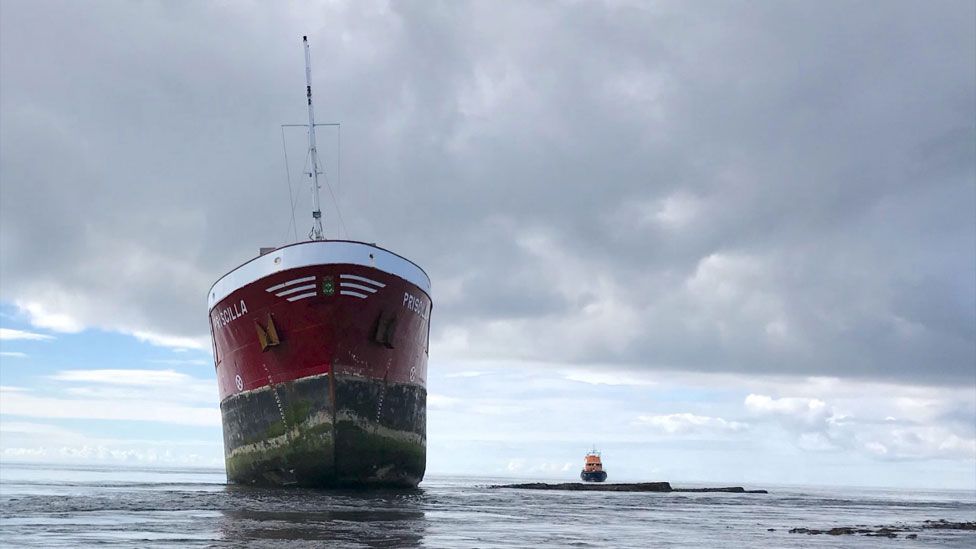 A group of salvage companies have been appointed by the owners of the MV Priscilla, a cargo ship that ran aground off Caithness on Wednesday.
The consortium, Multraship/Ardent/Wagenborg, have begun deploying equipment to the site on the Pentland Skerries.
A temporary exclusion zone of 500m (1,640ft) is in place around the site.
The Maritime and Coastguard Agency said no pollution had been reported, and the six crew were safe onboard the ship.
Inspectors from the Marine Accident Investigation Branch have begun an investigation into the grounding of the Dutch registered
The UK government official who oversees the salvage of grounded and wrecked ships and marine structures is monitoring the situation.
Hugh Shaw, the Secretary of State's Representative for Maritime Salvage and Intervention, said: "This incident has now become a salvage operation in order to refloat the vessel.
"The Pentland Firth is well known for the strength of its tides, which are among the fastest in the world, so I'm pleased that the owner's representative and insurers have appointed experienced salvors without delay.
"I am in dialogue with a number of key stakeholders and once we have established and agreed the salvage plan, I will provide a further update on the way forward."