Highland communities demanding improved public loo provision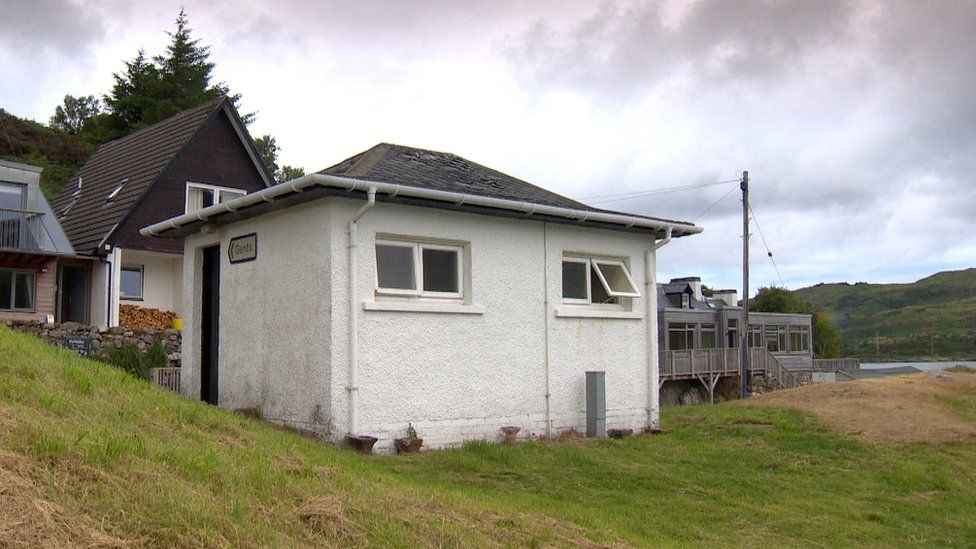 The North Coast 500 is one of Scotland's most scenic routes, but some communities on it worry the experience is at risk due to a lack of public toilet provision. BBC Scotland's Iain MacInnes travelled the route to investigate the growing row.
The NC500 route is hotting up again this year, bringing thousands of visitors to the winding roads of the north Highlands.
For tourists and locals alike - as for us all - there is sometimes the need to stop and spend a penny.
But under Highland Council plans to close a number of toilets in the region, already short on provision, that could become a bit more of an issue.
Sarah Macleod, of the Shore Caravan Site in Achmelvich, says tourists are "appalled" by the level of public conveniences in the area.
She says: "A lot of them have kids with them, and there are elderly tourists as well.
"The tourists are concerned and I think it would stop a lot of them coming to our areas if they could not stop somewhere and use the facilities."
Across the Highlands, 29 toilets are threatened with closure, many on the NC500 between Ullapool and Kinlochbervie, including those which are open seasonally at the award-winning Achmelvich Beach.
"There are people coming to this beach all year round," says Sarah.
"The toilets should be open at other times as well because I don't want to know what they are doing otherwise."
She adds: "When the toilets weren't open last year there was a lot of not very nice things behind the toilets. It was disgusting."
Highland Council says that they face difficult decisions and want to see more communities take on the toilets and run them for themselves.
Allan Henderson, chairman of environment, development and infrastructure at the local authority, says: "For the communities that have been doing this for a number of years it is not a major problem."
He said having communities take over the running of toilets, means savings can be made that protected other council services and staff, including street cleaners and special needs assistants.
Some in the region accept that changes are required but, although the consultation on the closure has been extended until the end of October, feel more time and consideration is needed.
Tanja Lister, owner of the Kylesku Hotel, says: "There is a fantastic opportunity for us to really look at this and I would agree there are probably ways in which we could reduce the cost of running these toilets.
"We could be extremely organised, instead what has happened is that there has been this reactionary decision pushed through at break-neck speed.
"I would ask for an immediate stop to the threat to close these toilets at the end of October because fundamentally that is too short a space for us to come up with any kind of good outcome."
'Handled badly in beginning'
Ian Munro, of the Kinlochbervie Fish Selling Company and life-long resident of Kinlochbervie, says those behind the moves to shut toilets "must not have any bowel problems in their lives".
He says: "I used to drive fish lorries and for a period of my life 15 years ago I had chronic bout of ulcerative colitis and I depended on public toilets a lot.
"It is not a very nice thing to talk about, but it is a real part of life."
Highland Council accepts that mistakes have been made in the process, but insists that communities need to play a part to keep toilets in the area open.
Councillor Linda Munro, who represents Sutherland, says: "Hands up, we handled this badly in the beginning.
"We got it absolutely wrong the way the information went out, but we need to move on from there.
"We are striving to keep key toilets open, but still wanting the communities to work with us."
Many communities say that the toilets - in their current state - would be a liability and not an asset, as the council insist.
However, as things pan out, the toilet network on the route looks set to be very different in the coming years.