Further evidence of Bronze Age cemetery at Drumnadrochit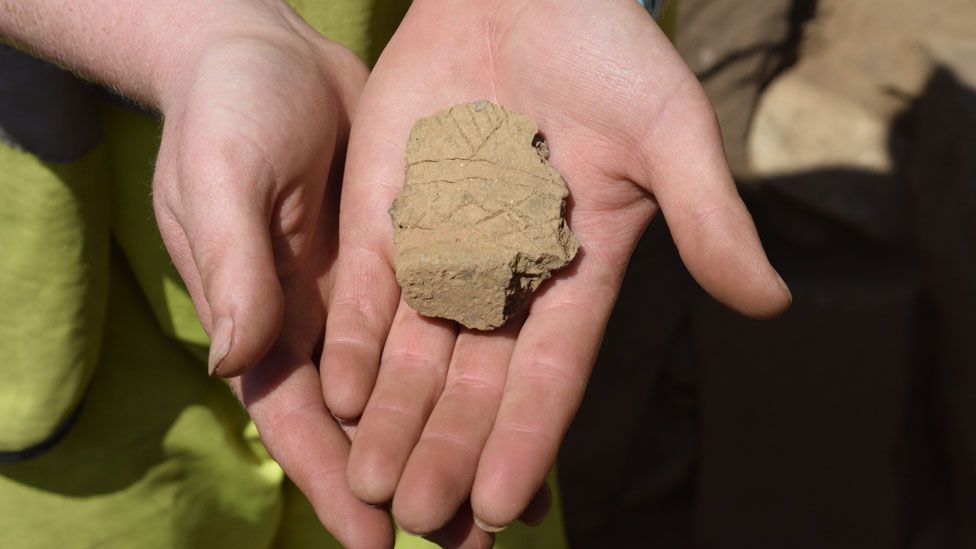 Archaeologists have uncovered a Bronze Age burial cist close to where two of the stone slab-built graves were previously found.
The discovery was made at Drumnadrochit's Kilmore site where housing for older people is to be constructed.
Human remains have not survived, but parts of a pot placed in the grave did.
Archaeologists said the find was further evidence of a Bronze Age cemetery near the shores of Loch Ness.
AOC Archaeology, which has been monitoring the site, said the fragments of the Beaker pot dated to about 4,500-4,000 years ago.
Archaeologist Sam Williamson said: "At the time of discovery, it was clear that the cist had already been disturbed.
"One of the side slabs had been broken and had collapsed into the soil-filled grave while the capstone, or grave lid, was missing.
"The size of the grave indicates that it would have contained a crouched inhumation burial, which did not survive inside the acidic soil environment."
AOC's Inverness operations manager, Mary Peterann, said: "While not completely a surprise to us, it's always exciting to have a discovery of this calibre.
"More importantly, because we have a Beaker inside the cist, we can connect it straightaway to the other burials we found on the site.
"This increasingly indicates that the Drumnadrochit site contained a Bronze Age cemetery, with three cists and a fourth burial pit found during our monitoring work.
"All of the burial sites were located centrally along the slightly raised ground within what would have been a wide flat expanse between the River Enrick and the River Coiltie on the edge of Glenurquhart Bay."
She added: "Due to the soil conditions, only one of the graves contained human remains, a male inhumation burial, while two other Beaker pots have been recovered, one alongside a stone bracer, or archer's wrist guard."
Archaeologists said a separate discovery of a capstone-like slab for a cist within an earlier soil layer, potentially from the 14th Century, suggested that Drumnadrochit's medieval farmers may have been responsible for damaging the Bronze Age burials.
The farmers may also have destroyed other cists that may have been in the area.