UK spaceport proposed for Sutherland site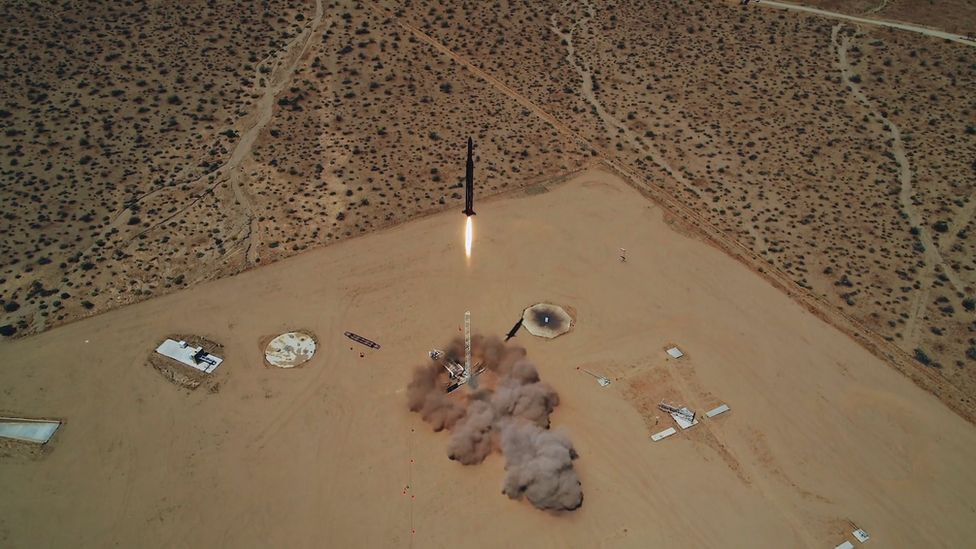 A peninsula on Scotland's north Highland coast has been identified as the site of what would be the UK's first spaceport.
Vertical rocket and satellite launches are planned from A'Mhoine, Sutherland.
The UK Space Agency said the move could pave the way for spaceflights from the site between Tongue and Durness.
Highlands and Islands Enterprise will be given £2.5m from the UK government to develop the spaceport which could be up and running by the early 2020s.
Sutherland is the first vertical launch site to be awarded the grant money, ahead of other vertical sites at Unst, Shetland, and North Uist in the Western Isles.
The proposed site is on the Melness Crofting Estate.
The UK government said US aerospace giant Lockheed Martin would establish the launch operations in Sutherland, and develop "innovative technologies" with support from two UK Space Agency grants totalling £23.5m.
Highlands and Islands Enterprise (HIE) plans to add £9.8m of its own funding, and said it will spend the next 18 months preparing a planning application to submit to Highland Council.
Once the site is developed, HIE said it expected that 400 people could be employed across different sites and that up to six launches of micro satellites could be carried out each year.
Lockheed wants to bring the Electron rocket to Scotland. Currently, this vehicle flies out of New Zealand.
A British version of this rocket is to be developed and would have a propulsion unit and satellite dispenser built at Ampthill in Bedfordshire, Harwell in Oxfordshire, and in Reading, Berkshire.
The UK government said £5.5m has been awarded to UK-based Orbex to build the "innovative new rocket" for launch from Sutherland, with the support of British manufacturing operations and supply chains.
Called Prime, the orbital launch vehicle would deliver small satellites into Earth's orbit, using a single renewable fuel, bio-propane, that cuts carbon emissions by 90% compared to hydrocarbon fuels.
The UK Space Agency said the site in Sutherland was chosen as it is the best place in the UK to reach highly sought-after satellite orbits with vertically launched rockets.
The government also announced a new £2m development fund for horizontal launch spaceports across the UK at sites such as Prestwick in Ayrshire, Cornwall's Newquay, Campbeltown in Argyll and Bute and Llanbedr in Gwynedd, Wales, subject to a successful business case.
The cash is aimed at boosting their sub-orbital flight, satellite launch and spaceplane ambitions.
The space agency said the spaceflight market is potentially worth £3.8bn to the UK economy over the next decade.
Agency chief executive Graham Turnock said the spaceport grant would "help kick-start an exciting new era for the UK space industry".
Speaking on the BBC's Good Morning Scotland radio programme, he said: "What we are looking to do is be the first spaceport in the world to offer dedicated launch to very small satellites.
"The market in satellites up to 100kg, and especially up to 10kg, is growing massively at the moment but nobody is really providing the kind of launch capabilities that those companies are looking for.
"So this would put the UK in an even stronger position as a leading commercial space nation."
Business Secretary Greg Clark said: "As a nation of innovators and entrepreneurs, we want Britain to be the first place in mainland Europe to launch satellites as part of our industrial strategy.
"The UK's thriving space industry, research community and aerospace supply chain put the UK in a leading position to develop both vertical and horizontal launch sites."
Highlands and Islands Enterprise chief executive Charlotte Wright said: "The decision to support the UK's first spaceport in Sutherland is tremendous news for our region and for Scotland as a whole.
"The international space sector is growing and we want to ensure the region is ready to reap the economic benefits that will be generated from this fantastic opportunity."
Speaking on BBC Radio Scotland, Malcolm MacDonald, a professor of mechanical and aerospace engineering at the University of Strathclyde, said the Sutherland site was an ideal location.
"Rockets are effectively controlled explosions, very well controlled, " he said.
"But things do unfortunately go wrong with them, rockets blow up, and when that happens, and when things go wrong, you don't want there to be any people in the area.
"So there's a natural exclusion zone of around 4km from the site where the pad will be located, and you don't want to have any people or anything in the area."
Caithness, Sutherland and Ross SNP MSP, Gail Ross, said: "I must congratulate everyone that has been involved because it has been years in the making.
"I know that this is very, very early stages and there has been a lot of work behind the scenes.
"But I think the hard work starts now to move forward and make sure that we actually realise this."
Jamie Stone, Lib Dem MP for Caithness, Sutherland and Easter Ross, described the announcement as an "incredibly exciting prospect" for north Sutherland.
He added: "The decision to place the spaceport in Sutherland will be a real boost to future employment in the area.
"Not only that, but it will become a considerable tourist attraction for many years to come."
Secretary for Finance, Economy and Fair Work, Derek Mackay, said: "The development of a small-satellite launch facility at the Moine, Sutherland, is a significant first step towards stimulating space sector activity across the whole of Scotland and beyond.
"The significant investment, supported by HIE, and an estimated 400 jobs is a welcome boost to the local community and wider Scottish space sector which we are committed to see grow."