Inverness Airport preferred site for air traffic hub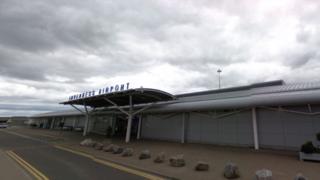 Inverness Airport has been identified as the preferred location for a centralised air traffic control hub for seven regional airports.
Highlands and Islands Airports Limited (Hial) said the recommendation made in a study by consultants had been accepted in principal by its board.
The project would be the first of its kind in the UK.
Unmanned towers at the airports would feed information to the central hub at Inverness Airport.
The towers would be located at Sumburgh in Shetland, Dundee, Wick John O'Groats, Kirkwall in Orkney, and Stornoway and Benbecula in the Western Isles.
Prospect, a union representing workers involved in air traffic control, has criticised the choice of Inverness for the hub.
It said the high quality jobs would be lost at the other airports.
Western Isles local authority, Comhairle nan Eilean Siar, has raised similar concerns.
'Most compelling case'
Hial said the centralised system would be phased in over a period of up to 10 years and that there were no planned reductions in staff numbers.
The company, which is wholly owned by Scottish ministers, said air traffic control staff and unions, airport managers and senior personnel were involved throughout the process of identifying a location for the hub.
The Scottish government and local politicians have also been kept informed, said Hial.
Managing director Inglis Lyon, said: "The scoping study identifies Inverness as having the most compelling case to support Hial's continued delivery of its core activities.
"We have also taken the views of our staff into account and Inverness was their preferred option should relocation be required. Inverness is best suited from a technical, operational and staffing perspective.
"Inverness is centrally located in relation to the other HIAL airports and has direct flights to Sumburgh, Kirkwall, Stornoway and Benbecula. It has road and rail connections with Dundee and Wick."
Hial's interim chair Lorna Jack said: "We know that these changes will be challenging in those particular communities, but our overall aim is to future-proof the services that they depend on.
"We will now work with our colleagues and stakeholders to establish a centre of excellence that will deliver for the people and communities we serve."
Prospect negotiations officer, David Avery, said Hial's board had taken its decision without undertaking an assessment on the impact on local communities.
He said: "For our members this is far too late and it's clear that Hial intend to proceed regardless of what the report may tell them.
"Our members are highly skilled professional air traffic controllers who have significant operational and safety about the concept of remote towers and its implementation in Scotland.
"These views on the overarching direction of the project have been ignored at every stage by Hial."
Prospect has sought a meeting with Transport Secretary Michael Matheson to discuss its concerns.