Huddersfield runner claims Double Ramsay Round first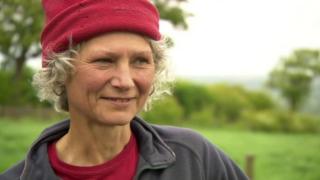 A breast cancer survivor has laid claim to being the first runner to complete a challenge in the Scottish mountains twice on the same run.
West Yorkshire farmer Nicky Spinks' Double Ramsay Round involved doing a circuit of 24 summits in Lochaber, including Ben Nevis, twice.
A single round was first set by Lochaber Athletic Club member Charlie Ramsay, from Edinburgh, in 1978.
Ms Spinks' Double Ramsay involved covering 116 miles (187 km).
The 51-year-old finished her attempt early Monday morning in a time of 55 hours and 56 minutes.
As a single Ramsay Round is usually attempted within 24 hours, Ms Spinks, who runs a farm in Gawthorpe, near Huddersfield, had hoped to complete the double in 48 hours.
She had to endure exhausting high temperatures during her run.
Ms Spinks began running competitively in 2001 in a four-mile fell race. She had a hysterectomy in 2012.
In 2011, she set a new women's record of 64 for the number of Lakeland peaks climbed in 24 hours.
Two years ago, she completed a 132-mile (212 km) fell run across the Lake District's highest peaks in less than 48 hours.