Scottish wildfires mapped using satellite data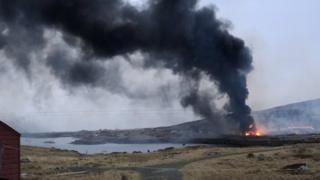 Freely available date from satellites has been used to map wildfires that broke out in parts of Scotland in the spring.
Scottish Natural Heritage (SNH) has produced a series of maps showing the extent of the damage caused to grass and moorland.
The wildfires include one that flared up on the Isle of Rum and the Highlands and Islands.
SNH plans to update the maps following further analysis of satellite data.
This spring also saw extensive and long-burning wildfires in Sutherland, Torridon and the Western Isles during a period of dry weather.