New artwork recalls Inverness market's guard dog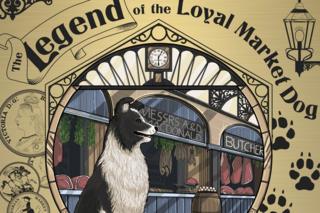 A new plaque has been made to honour a guard dog that died in a fire almost 130 years ago.
The dog had been trained to protect a butcher's shop in Inverness' indoor Victorian Market, and could not be persuaded to leave its post.
The blaze almost completed destroyed the site, which was later rebuilt and continues to be used today.
The plaque is the first of a series of seven artworks installed across the city recalling some of its legends.
Residents and visitors to Inverness can download an app to smartphones and other devices to access more information and animations.
The piece dedicated to the dog has been placed in the market.
The dog guarded a shop owned by butcher AA MacDonald in the gas-lit Victorian Market.
It was reported at the time that it could not be persuaded to leave its post despite the desperate calls of the crowd which had gathered outside.
Nobody was injured in the fire, but the dog was never seen again.