Major hydro project proposed for Loch Ness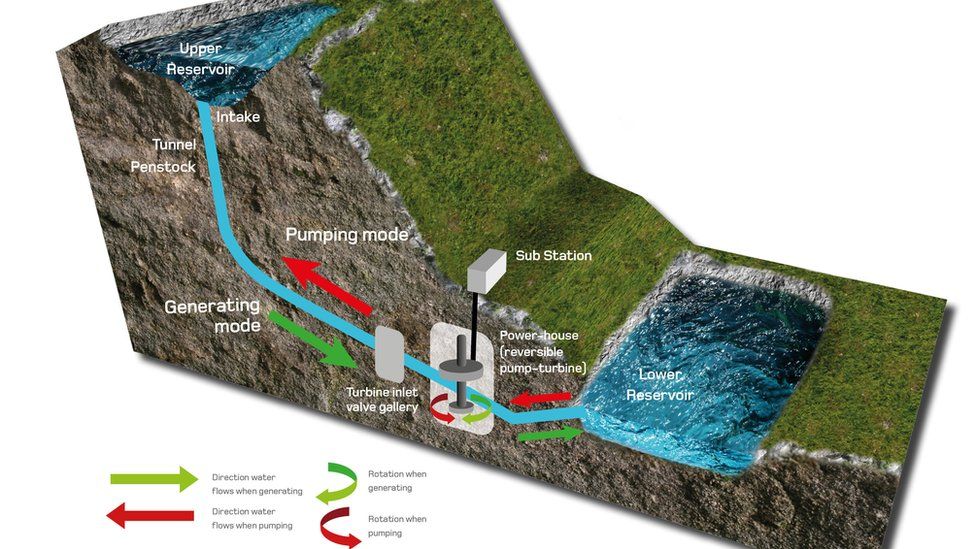 A pumped hydro storage scheme that would involve drawing water from Loch Ness could generate enough power for 400,000 homes, say its developers.
Hamilton-based Intelligent Land Investments (ILI) said the construction phase of its Red John project would create work for up to 300 people.
It has been proposed for a site south of Dores.
A 100m (328ft) underground "power cavern" and 2,650m-long (8,694ft) pipe would be built for the scheme.
More details of the plans are to be given during public displays in Dores Community Hall next week.
Pump storage hydro schemes "soak up" excess power generated by wind farms, using it to pump water up to a reservoir.
That water would then be released through tunnels to generate hydro electric power at times when consumers need it.
ILI's project would involve pumping water between Loch Ness and a new upper head pond.
The developers said the pond would be landscaped to blend it in with the nearby natural lochs Duntelchaig, Ashie and Loch na Curra and also Lochan an Eoin Ruadha, from where the development gets the Red John name.
Mark Wilson, of ILI, said: "Pumped storage hydro is the largest and cleanest form of energy storage that currently exists - and a key enabler in helping Scotland meet its green energy ambitions.
"As well as dramatically improving our energy security, this transformational proposal is a fantastic opportunity for the community to benefit from the energy transition while helping turbo-charge Scotland's decarbonisation efforts."
The eastern shore of Loch Ness already has a hydro power station.
Operated by SSE, Foyers is a combined pumped storage and conventional hydro electric scheme.
Electricity has been generated in the area since 1896 when power was needed to supply an aluminium smelter, which was shut down in 1971.
Related Internet Links
The BBC is not responsible for the content of external sites.