Offer made on reintroduced schools shinty rule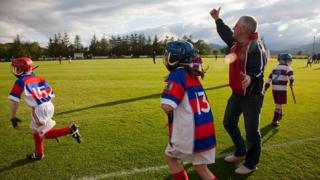 Shinty's governing body has offered to work with clubs to help them avoid breaking a rule reintroduced for schools competitions.
The rule allowing small schools to amalgamate was relaxed during efforts to increase participation in the sport.
The Camanachd Association has brought it back because of concerns some schools were still merging when they could field their own teams.
A recent breach of the rule prompted the association to make its offer.
"Communication failures" were blamed for the rule being broken.
Inverness-based Camanachd Association said children involved could continue to participate in the schools competition, but not progress to the final.
However, clubs involved were unhappy with this.
'Level playing field'
The reintroduced rule allows small schools without enough players for their own team to amalgamate, provided the combined roll of the schools did not exceed 150 pupils. Historically the number was 70.
Shinty has grown in popularity since the time the rule was temporarily relaxed in 2015.
A spokesperson for the Camanachd Association said: "We are committed to developing shinty through the creation of opportunities for players at all levels of the sport.
"Our schools competition rules are designed to ensure a level playing field for all participating schools and players and as a result will significantly benefit all those taking part.
"We understand the frustrations of some clubs and we will continue to work with them, and all member clubs, to create further opportunities through existing competitions and our development programme."