Embo's Coul Links golf course backed by councillors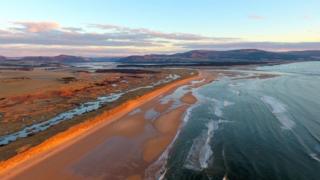 Highland councillors have voted to grant planning permission for the controversial Coul Links golf course.
Part of the 18-hole championship course near Embo in Sutherland would be on a Site of Special Scientific Interest.
Council officials had recommended that councillors did not give planning permission.
The developers of the course have welcomed the vote, while opponents want Scottish ministers to call-in the project for further scrutiny.
The project, which involves an area of sand dunes that provide habitat to rare plants and animals, is expected to automatically go to ministers for consideration because of the type and size of the development.
'Thorough consideration'
Highland Council's north planning applications committee had previously deferred making a decision on the golf course to allow for new information on the project to be assessed.
Council planning officers said the new detail had not changed their earlier recommendation to refuse permission.
At a special meeting of the committee, an amendment was tabled to refuse planning permission but it received no support.
Maxine Smith, the committee's chairwoman, said she believed that "on balance" the economic benefits of the golf course "outweighed the detrimental effects on ecology".
She said: "I studied everything and, whilst I appreciate the this will be detrimental to the flora and fauna on the dunes, I don't think that outweighed the economic and social benefits this application will bring.
"Tourism is massive in the Highlands and we need to encourage that and not turn it away."
The developers of the course said the project would involve disturbing about 32 acres (13 ha) of dune habitat at Coul Links, but "improve" 49 acres (20 ha).
US businessman Todd Warnock, who is helping to lead the development, said: "After more than three years of thorough consideration of the project, we are excited to win such overwhelming support from the committee.
"The development has been comprehensively and fairly assessed by the two statutory bodies as well as the competent planning authority and we now look forward to bringing to Scotland the economic benefits of such a prestigious golf course."
He added: "This major investment in a relatively remote part of the country has the significant support of local people and we thank them again for their help and encouragement.
"I would also encourage opponents of the golf course to now work with us to make the project a huge success."
'Last stronghold'
A coalition of conservation groups, including the Scottish Wildlife Trust, RSPB Scotland, National Trust for Scotland and Buglife, have called on Scottish Ministers to call-in the planning application.
Alistair Whyte, head of Plantlife Scotland, another of the coalition's members, said: "Coul Links is the last stronghold and safe haven for many of Scotland's threatened wild plants such as lesser butterfly orchid, coral root orchid, moonwort and star of Bethlehem.
"The Scottish government must intervene to save these wild plants and the wonders of this wild landscape."