Pine marten poaches Loch Garten osprey's rotten eggs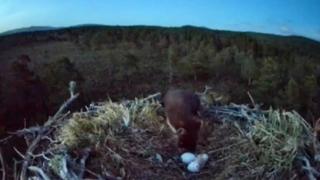 Three eggs laid by a Highlands nature reserve's most successful breeding female osprey have been taken by a hungry pine marten.
Laid by the bird known to conservationists as EJ, they had failed to hatch at the RSPB's Loch Garten reserve near Grantown on Spey.
The clutch has been in the nest for several weeks.
Staff at the site have suggested that the pine marten's meal would have made for "a rancid midnight feast".
After stealing the eggs, the marten sprayed its scent in the nest.
Pine martens are opportunists and the animal that visited EJ's nest saw the eggs as an easy meal.
Ospreys migrate from west Africa to Scotland to breed and can be seen hunting for fish from rivers and lochs.
Twenty-one-year-old EJ remains Loch Garten's most successful breeding female osprey.
Earlier in the season, she defended her nest against a pine marten. She is still visiting the nest and defending it against other birds looking to take it over.
The reserve in the Cairngorms is home to other ospreys and a wide range of bird species as well as red squirrels.