Osprey EJ not raising chicks in 15th breeding season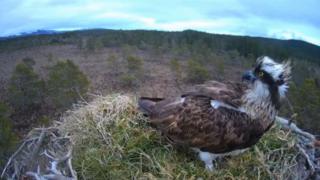 A female osprey that returned to a Highlands nature reserve for her 15th breeding season will not be raising chicks this year.
Three eggs laid by the bird, known to conservationists as EJ, have failed to hatch at her nest at the RSPB's Loch Garten reserve in the Cairngorms.
Ospreys migrate from west Africa to Scotland to breed and can be seen hunting for fish from rivers and lochs.
EJ remains Loch Garten's most successful breeding female osprey.
RSPB Scotland said 21-year-old EJ, who continues to defend her nest site from rivals, could potentially successfully breed beyond the age of 25.
It is the second season in a row that the osprey, one of many that breed in Scotland, has not raised chicks.
Over previous seasons, 25 of EJ's chicks have fledged.
This season has been a tough one for EJ with fights against other raptors and pine martens to defend her nest.
Her new mate, a younger bird nicknamed George, failed to bring her food often enough while she incubated the eggs, and was even suspected by RSPB staff of having another mate elsewhere.
The male is still visiting the nest and has been helping EJ defend it.
RSPB Scotland's Loch Garten reserve is home to other nesting ospreys, other wild birds and red squirrels.