Cyclist completes North Coast 500 double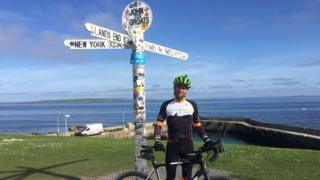 An endurance cyclist has completed Scotland's North Coast 500 route twice in the space of 95 hours.
Wayne Blair, a 46-year-old builder from Aboyne, Aberdeenshire, spent 68 of those hours cycling to cover a total distance of 1,006 miles (1,619km).
He first rode the Highlands route in an anticlockwise direction, before turning around and cycling it clockwise.
Mr Blair hopes to have last week's feat officially recognised, including by Guinness World Records.
The North Coast 500, also known as the NC500, stretches for more than 500 miles (804km) and features roads in the Black Isle, Caithness, Sutherland and Wester Ross.
In the course of the challenge, the cyclist climbed a total of 21,641m (71,000ft) - more than twice the height of Everest - and burnt off 42,000 calories.
Backed up by two support teams, he got by on three sleeps, each of them three hours long.
Mr Blair, whose wife Anna describes him as "an ordinary guy who just did something extraordinary", cycled the loop one-way two years ago.
Part of his motivation for completing the route twice was to find out if he could do it - but it was also part of his preparations for October's World Solo 24 Hour Mountain Bike Championship in Fort William.
Mr Blair regularly takes part in mountain bike endurance races, including Strathpeffer's Strathpuffer.
Following his latest challenge, he said: "As far as I can see, no one else has done the double, doing the route one way and then back the other.
"I did go through some dark spells when I wondered whether I could finish it."
At one point on the return leg, Mr Blair's physiotherapist drove from Inverurie in Aberdeenshire to give him treatment in Tain in Easter Ross.
Mr Blair said: "I was riding one-legged because one of my legs was so sore. I was then putting all the pressure on the other leg."
Following treatment, he was able to complete his challenge, which was followed online by people across Scotland, but also in Canada, New Zealand and Australia.
Mr Blair said: "Their messages of support and encouragement to dig in helped to keep me going."