Orca John Coe causes a stir off Anglesey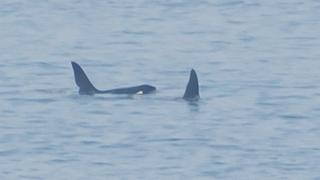 An orca frequently spotted off Scotland's west coast has been seen off Anglesey in Wales.
The bull known to conservationists as John Coe can be identified by a notch on his dorsal fin and a missing chunk on his fluke.
He was photographed with an unidentified orca by Laura Kudelska, of RSPB Cymru, on 9 June.
In March, Scottish conservationists say John Coe was spotted from near Dingle in south west Ireland.
He is more often seen off the Isle of Mull in the Inner Hebrides.
The appearance of John Coe and the other orca off Anglesey was the cause of some excitement.
Ms Kudelska, RSPB South Stack site manager, said: "We often get reports of large marine mammals like minke spotted around RSPB South Stack in Anglesey, but unfortunately none of the staff ever get a 'confirmed sighting' which usually involves photographic evidence.
"So when a visitor came in saying they had spent an hour watching two killer whales and they were still there, we ran with a camera to see them."
She added: "It was amazing to see two long black fins pop up. It is a first for me and the site team, we all felt privileged to have seen these beautiful majestic marine mammals."
RSPB Cymru marine policy officer, Emily Williams, said the appearance of the orcas underlined the need for greater protection of Wales' marine environment.
She said: "We're hoping that a new Marine Area Statement under development by Natural Resources Wales will help to look at some of these issues and focus on the resilience of the marine ecosystem.
"This is vital to enable Wales' seas to continue to provide a home to such spectacular wildlife"
Shark bite
John Coe is one of eight orcas of a group known as the West Coast Community.
A ninth member, Lulu, was found dead on the Isle of Tiree in 2016 after becoming entangled in fishing lines.
Tests later revealed her body contained among the highest levels of polychlorinated biphenyls, or PCBs, ever recorded.
The chemicals were banned from the 1970s but are still in the environment.
John Coe is believed to have had his own brush with death.
The injury to his fluke is thought to have been inflicted by a shark.
Mull-based Hebridean Whale and Dolphin Trust, which helps to monitor the West Coast Community, has noted the sighting of John Coe off Wales.
The trust said: "John Coe is part of a unique group of killer whales called the West Coast Community, identifiable from other groups of killer whales seen around the UK by their downwards sloping eye patch and larger size."
Scotland's seas are also visited by another group of ocras that arrive from Iceland each spring to raise young and to hunt.