First road built on tiny island of Sanday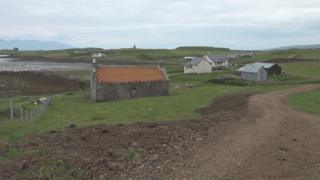 The first road has been opened on a tiny Scottish island.
The 3m-wide, mile and a half long route has been constructed on Sanday, which is connected by a bridge to the neighbouring Isle of Canna.
The road is a replacement to a rough shoreline track that was covered by water at high tide.
Isle of Canna Community Development Trust helped with a crowdfunding campaign to raise more than £31,400 to pay for the construction of the road.
The National Trust for Scotland, which owns the two islands, also contributed to the cost.
Eighteen people live across the two islands of Canna and Sanday.