Western Isles awarded World Craft City status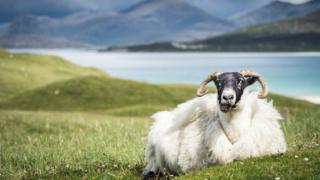 The Western Isles is the first region of the UK and only the second in Europe to be awarded World Craft City status.
While not a city, the Outer Hebrides are being recognised for a centuries-long production of Harris Tweed.
The award has been made as part of the staging of World Craft Council Europe's general assembly in Edinburgh.
It is the first time in 15 years that the gathering of international craftspeople has taken place in Scotland.
The Danish island of Bornholm is Europe's other holder of craft city status.
Globally, cities and regions of Chile, Thailand, Iran, India and Jordan have the designation.
'Highest standards'
With a history stretching back centuries, Harris Tweed is made from cloth woven by hand in the Western Isles with wool yarn from island sheep.
The product is trademark protected and, for more than 100 years, has been stamped with a symbol known as The Orb.
Lorna Macaulay, chief executive of the Harris Tweed Authority, said the industry was delighted to be awarded its new international designation.
She said: "Whilst the Outer Hebrides is of course not a city, our island community punches well above its weight in terms of the reputation of Harris Tweed globally and its importance to the history, culture and economy of our island home.
"The Harris Tweed Authority's application to and adjudication by the World Craft Council was thorough and required that we met the highest standards of craftsmanship and skill.
"This award recognises that the skill and craft of the current generation of weavers, mill workers, designers and makers for whom Harris Tweed cloth and Harris Tweed products are not just made by their hands, but also courses through their blood."
The World Crafts Council (WCC) was established in 1964 as a non-profit membership organisation.
It was set up to promote an international interest in crafts and encourage contact between the craftspeople of different countries.
The council helps to run the Unesco Creative Cities programme to foster interaction between crafts and other creative industries.
The Western Isles is the 24th and newest member of the cities network.
'Incredible artisans'
Rosy Greenlees, executive director of the UK's Crafts Council, said: "I am delighted that the region of the Outer Hebrides has been recognised for its Harris Tweed as part of the World Crafts Council Craft Cities programme.
"Across the globe there are clusters of the most incredible artisans and makers producing stunning craft. From the horsehair work in Rari in Chile to the natural indigo dying of Sakon Nakhon in Thailand and from the crafts of Hebron in Palestine to those of the island of Bornholm in Denmark their commitment to sustaining their heritage and craft is to be applauded.
"The WCC's programme aims to profile and celebrate this excellence in a growing network of over 20 designated craft cities."