Atlantic rower from Scotland rescued by US Coast Guard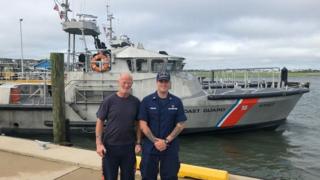 An amateur rower has been rescued from stormy weather while making an attempt to cross the North Atlantic in a wooden boat he built himself.
Duncan Hutchison, from Lochinver, spent three years building the boat, which is adrift at sea.
Mr Hutchison left New York last month with the aim of taking about 100 days to row his boat back to the Highlands village.
The US Coast Guard came to his aid off Barnegat, New Jersey.
His boat called Sleipner, named after an eight-legged horse from Norse mythology that could glide across the sea, had come ashore but was later carried back out to sea.
All his belongings are on the boat.
Mr Hutchison hopes the coast guard can help him find and recover the craft.
In a post on Facebook, he said he hoped to resume his attempt if the boat was recovered and once the weather was calmer.
He thanked the coast guard and a local bed and breakfast owner for the help they have given him.
Another Scot, Niall Iain Macdonald, is making a separate bid to row from the US to Scotland.
Mr Macdonald, who is making his third attempt in four years at completing the feat, set out from Virginia and is aiming for Stornoway in Lewis.
He is still off the US coast.