Kessock RNLI lifeboat station marks 25 years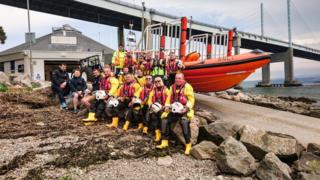 A Highlands lifeboat station is marking its 25th anniversary.
Kessock RNLI began as a summer season-only service on 5 June 1993, operating from an old slipway at North Kessock on the Black Isle.
A ticket office for the then Kessock ferry service was used as a changing room for the crew.
The crew, which became permanent after just one summer season, continued to use those facilities until 2001 when it moved into its own lifeboat station.
In the 25 years since it began, volunteers from Kessock have saved 36 lives, launched their lifeboat 700 times to go to the assistance of people in distress and rescued 320 people.
Today there are 25 volunteers at Kessock lifeboat station. One of the original volunteer crew remains involved with the lifeboat.
Recalling one of the early call-outs, known as a shout, he was involved in, the station's chairman, Alan McDiarmid, said: "We were working with Invergordon lifeboat in tremendous breaking surf just off Nairn trying to get to a yacht that had gone aground.
"Conditions were too rough for Invergordon to get close so we had to take every bit of towline they had, link it with everything we had and head into the breaking waves to get to the yacht."
The boat the Kessock crew was using capsized twice on the way to the yacht.
Mr McDiarmid said: "We still managed to get the towline secured. Despite it parting twice during the tow we were able to get the vessel floating.
"It was a great example of both crews working together in unpleasant conditions to help someone in distress."
Dan Holland, a helmsman who has volunteered for 11 years at RNLI Kessock, said: 'What has characterised this station is that time and time again you think this is the best crew we've ever had.
"But then some new guys and girls come along and the sense of camaraderie gets better and as the years pass the crew gets better and better.
"We are tight-knit bunch and with that comes a really strong sense of pride about what we do in the local community."
Stan MacRae, senior helmsman and volunteer of 22 years, added: "The current lifeboat we have is fully equipped with radar, direction finding VHF, GPS, it can self right if it capsizes and much more.
"It is a tremendous search and rescue asset to have in Kessock and will continue to serve the area, saving lives at sea for many years to come."
To mark the 25th anniversary the volunteer crew is being photographed by Jack Lowe for the Lifeboat Station Project.
The project is the first time that every RNLI lifeboat crew has been brought together in a single photographic collection.