Council staff in Fort William use brollies against sun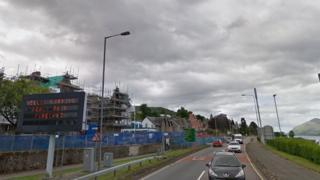 Staff have been using umbrellas to shield themselves from sunshine inside new council offices in one of Scotland's rainiest towns.
The brollies were put to use in last week's sunny weather in a glass-fronted extension of the Charles Kennedy Building in Fort William.
Highland Council employees moved into the building last Wednesday.
The council said arrangements were "in hand" to have a special film fitted to the glass, and for curtains or blinds.
On average in Fort William, rain falls on 201.5 days to a total level of 1,809.4mm a year, according to Met Office statistics.
However, the town enjoyed long hours of sunshine last week along with other parts of Scotland.
'Lots of glass'
Last week, Highland Council staff relocated from Lochaber House in Fort William to the new offices at the Charles Kennedy Building, a former school.
The new community building was named after former MP for Ross, Skye and Lochaber, Charles Kennedy, who died in 2015.
A council spokeswoman said: "There is a lot of glass in the building and as it was extra sunny last week some staff rigged up umbrellas to work under.
"Arrangements are already in hand to put remediation in place for special film to be fitted to glass and curtains or blinds."