Nairn MacEwan's commitment to rugby 'the stuff of legend'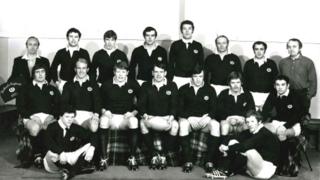 Tributes have been paid to former Highland Rugby Club captain and Scotland wing forward Nairn MacEwan, who has died at the age of 76.
MacEwan won his first cap against France at the Stade Colombes in Paris in 1971 and he won 20 caps in total over the next four years.
He was hugely influential in Inverness-based Highland Rugby Club's rise through the National Leagues.
Scottish Rugby has paid tribute to his skill and commitment to the sport.
Born in Dar-es-Salaam, in what is now Tanzania, he later moved to the Scottish Highlands and ran a restaurant in Strathconon.
'Meteoric rise'
In its tribute to MacEwan, Scottish Rugby said: "MacEwan's commitment was the stuff of legend.
"He would often travel three times in a week, twice for training and then at the weekend for playing, from his home near Inverness to Galashiels in the Borders, at a time when Gala were a major power in the Scottish club game.
"A round trip of some 400 plus miles, long before any road improvements to the A9."
Highland Rugby Club said it was "greatly saddened" by the passing of "a legend".
Inverness-based sports journalist Charles Bannerman said: "In the mid 70s he won 20 Scottish caps and was the inspiration behind Highland's meteoric rise in consecutive seasons from the bottom to the top division of the fledgling National Leagues - arguably the first major breakthrough into national sport by any Highland team."