'Unrestricted use' of Dounreay nuclear site in 300 years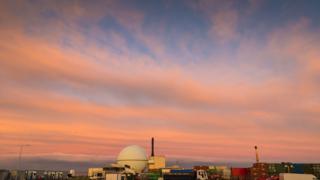 Approval has been sought for projects that would eventually open up the site of a nuclear power complex to other uses in 300 years time.
Dounreay near Thurso on the north Caithness coast is in the process of being decommissioned.
Highland councillors have been asked to approve phase three of this work.
It includes dealing with some of the most challenging features of the site, including dismantling reactors and dealing with radioactive waste sites.
Highland Council's north planning applications committee has been asked to give planning permission to a range of projects.
Among them is the construction of temporary buildings for housing robotic tools for retrieving waste from areas called the Shaft and the Silo.
Colourful myths
Built in the 1950s, the Shaft plunges 65.4m (214.5ft) below ground.
Radioactive waste was disposed there from 1959 to 1977, when an explosion ended the practice.
Colourful myths surround the Shaft, including claims that a former worker dropped his mother-in-law's ashes inside to comply with her wish to be scattered somewhere unusual.
An unwanted car was also said to have been disposed of at the structure, which is 4.6m (15ft) wide in places.
Other projects include the dismantling of three nuclear reactors, the demolition of the Dounreay Fast Reactor's landmark Golf Ball, also known as the Dome, and landscaping works.
Rare bumblebee
Highland Council planning officers have described phase three as "by far the most significant stage" in the decommissioning of Dounreay.
The projects would help to bring about what is called an interim end state, when the decommissioning work has been completed.
This is expected to be reached between 2030 and 2033.
The projects would also assist in reaching a point 300 years from now when the land is deemed to be safe of any potential radioactive contamination for "unrestricted use", according to the site's operators.
A potential use of the land is that it be a wildlife habitat.
Parts of the site already support insect and bird life. A wild flower meadow created at Dounreay provides habitat for the great yellow - among Britain's rarest bumblebees.