Scottish government urged to help rare bird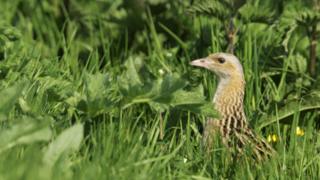 The Scottish government has been asked to ensure schemes that encourage wildlife-friendly farming continue in the interests of a rare breeding bird.
Last year, numbers of corncrakes fell to their lowest level since 2003.
They breed on islands including Lewis, Harris, Mull, Orkney and parts of the north-west Highland coast and Argyll.
RSPB Scotland has asked the government to make a "firm commitment" to continue incentives that encourage wildlife-friendly farming.
The Scottish government said it awarded almost £50m last year to encourage environmentally-friendly land management practices over the next five years, including for efforts that help corncrake conservation.
RSPB Scotland said cooperation between crofters, government, statutory agencies, conservation organisations and agriculture organisations led to a recovery of the species.
However, a survey last year suggested that numbers were declining again.
RSPB Scotland said there could be problems where corncrakes spend winter in Africa.
However, it warned that in Scotland late springs could potentially have an effect, and it has concerns that a gap between successive management contracts between schemes has a detrimental impact on the area of land being managed to help the species.
The schemes see farmers and crofters delaying when they mow grass for hay in an effort to aid the survival of corncrakes chicks in nests on the ground.
Farmers and crofters also create "corridors" of vegetation for adult birds and chicks to move through and take cover in.
'Urgent clarity'
Chris Bailey, of RSPB Scotland, said: "The crex crex call of the corncrake is an incredible sound, but sadly one that few people experience nowadays.
"We cannot let all the hard work that has been put in by all sides over the last 25 years be undone and go to waste."
He added: "While RSPB Scotland recognises the funding challenges, we need Scottish government to articulate a long-term vision for rural support, and commit to a clear plan for how species and habitats that are dependent on appropriate land management systems will be safeguarded."
A Scottish government spokesman said: "Corncrakes are a red-listed species. Previous management schemes prevented the loss of this species from Scotland and they remain a conservation priority.
"As part of our work on protecting the corncrake, the Scottish government last year awarded almost £50 million to encourage environmentally-friendly land management practices over the next five years, including helping manage cover for the birds.
"However, the UK government must provide urgent clarity on future funding this issue as part of Brexit negotiations.
"Scotland's farmers and rural communities receive valuable support from the EU and we believe that the UK government should replace all EU funding under the Common Agriculture Policy which is due to be lost as a result of Brexit."