Warning over 'preventable' wildfires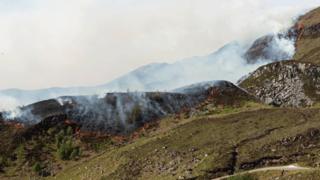 Many of the wildfires that have taken hold across Scotland are preventable, according to a senior fire officer.
Bruce Farquharson, chairman of the Scottish Wildfire Forum, commended the firefighters battling blazes in areas including Torridon and Skye.
He warned that wild and grass fires could be caused by cigarettes, and unattended barbecues and campfires.
A warning for an increased risk of wildfires is in place across Scotland until Thursday.
It came as firefighters battled three large wildfires in the Highlands.
They are still tackling two of the fires at Upper Diabeg in Torridon and in Strathcarron which broke out on Sunday.
A third fire, near Sligachan on the Isle of Skye, was later extinguished.
Mr Farquharson said: "Right now, many firefighters across Scotland are actively tackling wildfires, working to protect our communities and their efforts have to be commended.
"However, many of these fires are preventable, and we again urge people to read our safety advice, and enjoy the weather responsibly."
He urged people who were enjoying the outdoors during the good weather to be aware of the risks of fire and to follow the Scottish Outdoors Access Code.
'Burn for days'
During the warm and dry weather, moorland can be a high-risk area as dry heather or vegetation can provide fuel for fires.
Mr Farquharson added: "Wild and grass fires can start by the careless disposal of cigarettes and barbecues or campfires left unattended.
"They then have the potential to burn for days and devastate vast areas of land, wildlife and threaten the welfare of nearby communities.
"Many rural and remote communities, such as those in the Highland area, are hugely impacted by wildfires, which can cause significant environmental and economic damage."
Mr Farquharson pointed out that livestock, farmland, wildlife, protected woodland and sites of special scientific interest can all be devastated by wildfires - as can the lives of people living and working in rural communities.
"Just one heat source like a campfire ember can cause it to ignite and if the wind changes direction even the smallest fire can spread uncontrollably and devastate entire hillsides," he said.
'Ready to assist'
His plea has been echoed by Scotland's gamekeepers.
When a wildfire broke out at Loch Lee in Angus on 18 May, it spread rapidly before being extinguished by 24 gamekeepers and estate workers the following day.
Gamekeepers are often the first responders as they are able to access remote area quickly.
Iain Hepburn, head gamekeeper at Dunmaglass Estate, and a part-time firefighter, said:"The traditional muirburn that most estates undertake can help prevent wild fires, but we are entering a particularly high-risk time of year and we have been experiencing very dry, warm weather recently in many areas.
"Most wildfires are preventable and we would urge members of the public to remember that a fire can spread very rapidly if they discard a cigarette in the countryside or fail to properly put out a campfire or disposal barbecue. Warm, windy weather will exacerbate this risk.
"Gamekeepers stand ready to assist the fire service if there is a wildfire in their area, but we hope that won't happen, because fighting wildfires is very difficult and dangerous work."