New advice on taking dogs into Scotland's hills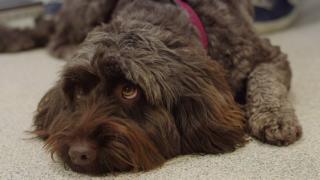 A group representing outdoor pursuits enthusiasts has published new guidance for walkers taking their dogs into Scotland's hills.
Mountaineering Scotland said certain breeds, such as collies, spaniels or Labradors, have the build and energy to handle the treks.
It added that with "sufficient preparation" most breeds could cope with hillwalking.
However, it said the activity could be potentially harmful to young dogs.
The new advice on Mountaineering Scotland's website follows the rise in popularity of hillwalking, and the number of people taking their pet with them.
It includes advice on how to protect a dog's paws from sharp rocks, and giving the animals time to recover from long walks.
'Skeletal damage'
Owners of small or large breed dogs and puppies are also encouraged to seek advice from their vet or a qualified dog trainer on the right age to start taking their dogs into the mountains.
During the first six to 12 months of a dog's life their bones, joints and soft tissues are developing rapidly and it is "extremely important not to over-exercise young dogs during this period to prevent long-term skeletal damage", said Mountaineering Scotland.
The information for the guidance was compiled by the group's members with "many years' experience and expertise" in sharing their mountaineering with their dogs, both in summer and in winter conditions.
Mountaineering Scotland member Anne Butler, who is also vice-president of The Munro Society and has climbed all of Scotland's Munros five times over, is seldom seen in the hills without her collie Ralph.
'Avoid cliffs'
She said: "My dogs are great companions in the hills and get excited whenever they see my boots come out.
"But you can't just take a dog into the hills and expect it to be able to walk for miles, know how to avoid cliffs and cornices, and have its own internal map for getting home.
"You have to introduce dogs gradually and be aware that, for all their energy, they'll still have limitations and you have to be responsible for their wellbeing."
She added: "We've tried in these web pages to highlight some of the most important points dog owners need to think about if they want their pets to become their hillwalking partners."