Scottish sites wanted for UK's first whale trail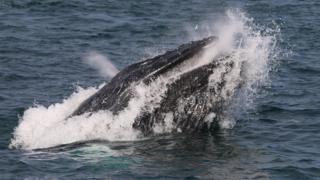 Sites on Scotland's west coast deemed good for spotting whales and dolphins are being sought for a planned new Hebridean Whale Trail.
About 25 sites are needed for the route being developed in a project led by the Hebridean Whale and Dolphin Trust.
The Mull-based charity said the trail would be the first of its kind in the UK.
The network of sites would range from the Clyde in the south, to Cape Wrath in the north and west to St Kilda.
As well as sight-seeing opportunities, the aim is also to showcase the history of people's relationships with whales in the region.
The trust hopes to promote Scotland as one of Europe's best destinations for spotting whales, dolphins and porpoises.
The trail is due to be launched next summer.
Karl Stevens, Hebridean Whale Trail manager, said: "People currently visit Scotland for the landscapes, wildlife and culture - but not necessarily to see cetaceans.
"With the Hebrides being one of the best places in Europe to see these spectacular animals, we want to add them to the mix - and our research shows that the potential is huge."
He added: "We're keen to hear from local people, communities and businesses for their ideas and suggestions - to ensure the Hebridean Whale Trail embodies the spirit of the Hebrides, and places Scotland's land-based whale-watching opportunities on the international map."