Culloden Battlefield row homes granted permission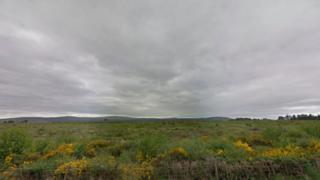 The design and layout for 16 homes opposed by a campaign set up to protect Culloden Battlefield have been given planning permission by councillors.
Highland Council's environment, development and infrastructure committee backed the plans by 12 votes to eight.
The issue was brought before the committee after claims of a mix-up in the vote at a different committee.
Kirkwood Homes plans to build the properties at Viewhill, near Inverness.
The Aberdeenshire-based company has welcomed the planning permission.
The National Trust for Scotland, which manages the battlefield and opposed the housing project, said the Viewhill case "illustrated why Scotland's planning system has to be reformed".
The project's progress through Highland Council's planning process has taken various twists and turns over the last few years.
The proposed housing site is about half a mile from the location of the battle, fought between Jacobite and government forces in April 1746, and is within the battlefield's conservation area.
Campaigners have argued that the fighting took place in a much wider area than what is regarded as the battle's location.
Protests against the planned housing development have been held at the battlefield and Highland Council's headquarters in Inverness.
The original application for the 16 homes was submitted by another company, Inverness Properties. It was refused planning permission by Highland Council.
Inverness Properties appealed and planning permission was granted by a Scottish government-appointed planning official in 2014.
Voting mix-up
Kirkwood Homes took over the project and recently submitted plans to change the design and layout of the homes.
In January this year, the south planning applications committee deferred making a decision and asked the developer to redesign the houses in a way that "better reflected" the development's Highlands setting, and the Culloden (Battlefield) Conservation Area.
Then in March, the same committee voted to approve an amended design and layout of the properties by five votes to three.
But after the meeting there were claims some councillors had made a mix-up in the way they voted.
Conservative councillor Andrew Jarvie, who voted to refuse planning permission, secured a motion of amendment to have the decision reviewed.
Following Thursday's vote, Kirkwood Homes' land director Allan Rae said; "We're extremely pleased at the outcome.
"It allows us to further invest in the economy of the Inverness area where we have already invested £25m in the Slackbuie and Essich developments which have now sold out.
"This will allow us to sustain existing jobs and grow our presence in the Highlands."
He said construction work was expected to start at Viewhill in the autumn.
Mr Rae said it would be a "small development", but it would mean fibre broadband and "enhanced" roads and drainage for the local area.