Judy Murray shares Gairloch pupils' recruitment video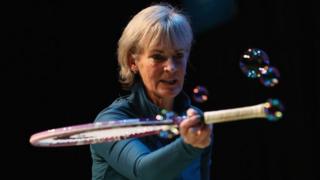 Tennis coach and mum of Wimbledon champion Andy Murray, Judy Murray, has given her support to a school's bid to recruit two senior staff.
Gairloch High School in the Highlands has a role of about 120 pupils.
The youngsters have made a video and posters which they have then posted on social media to help find a head teacher and a depute head.
Murray has shared a tweet with the video. In a comment she said: "You've got to love this."
Her message goes on: "School in stunningly beautiful north west Scotland looking for a head teacher and a deputy head. So the pupils made this fabulous video."
In the video, pupils explain what makes their school and the place where they live special.
The posters, which have also been posted online, show the landscape of Wester Ross.