Apache squadron training in the Highlands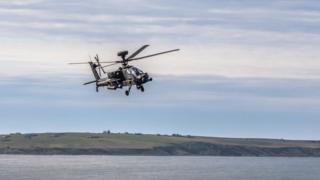 A squadron of British Army Apaches have been photographed on low-flying training over the Caithness coast.
The five Army Air Corps helicopters from Wattisham in Suffolk are being flown out of Kinloss Barracks in Moray.
The week-long squadron-level training has also brought the Apaches over Ullapool, Inverness, Loch Ness and the Cairngorms.
Photographer Karen Munro took her images of the helicopters as they flew near John O' Groats and Duncansby Head.
Prince Harry served with the Army Air Corps at Wattisham Flying Station in Suffolk between 2011 and 2014, including an operational tour of Afghanistan with 3 Regiment Army Air Corps.
At the prince's wedding to Meghan Markle on Saturday, a contingent of 25 soldiers from 3 Regt AAC will line streets outside St George's Chapel, Windsor Castle, and present a Royal Salute to the newlyweds.