Dundee United colours worn at Liam Colgan's funeral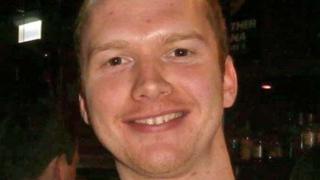 A funeral has taken place for Inverness man Liam Colgan, whose body was found 10 weeks after he went missing on his brother's stag party in Hamburg.
The 29-year-old vanished on 10 February. His body was later recovered from the River Elbe in the German city.
Some of the mourners at his funeral in Inverness wore Dundee United colours. Liam was a fan of the Scottish club.
His Royal Mail colleagues also wore their uniforms as a tribute to his work as a postman.
Liam's death has been described by his family as a "tragic accident".