Ullapool dementia arts project secures funding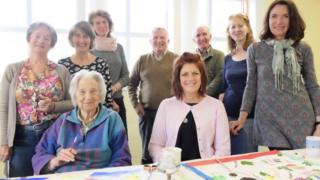 A project that brings artists and people living with dementia together for art activities has secured key funding.
Ullapool's Dolphin Project is led by the local arts organisation and gallery, An Talla Solais.
The name of the project was inspired by the words of a fisherman with dementia in the village who described his memory as "like a dolphin, it comes and goes".
The project has secured £26,000 in funding.
It has come from the Life Changes Trust and The Big Lottery.
A part-time co-ordinator is to be recruited to the project.
One of their tasks will be to work with local organisations or businesses on training staff in recognising symptoms of dementia and to be able to communicate more easily with those affected.
An Talla Solais other work with people with dementia has included the creation of a tiny terracotta army of 200 clay figures.