Three veterans commemorate Arctic Convoys at Loch Ewe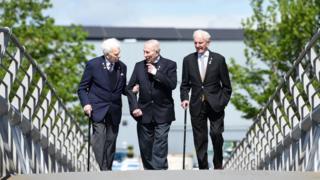 Three veterans in their 90s have joined forces to commemorate the Russian Arctic Convoys of World War Two.
Bernard Roberts, 91, from Cardonald, James Docherty, 92, from Dalmarnock and Edwin Leadbetter, 92, from Newton Mearns, are travelling to Loch Ewe in the Highlands for a special ceremony.
The Arctic Convoys transported four million tons of supplies and munitions to Russia between 1941 and 1945.
The remote Loch Ewe was the gathering point for many of the convoys.
More than 3,000 Allied seamen lost their lives to the freezing conditions and attacks during the trips to ports in the Arctic Circle after Germany invaded the Soviet Union in June 1941.
The most direct route was by sea, around northern Norway to the Soviet ports of Murmansk and Archangel.
A total of 78 convoys travelled to and from northern Russia, taking supplies to the Soviet forces, including 7,000 planes and 5,000 tanks.
Perilous missions
Edwin Leadbetter, also known as Eddie, was serving on HMS Fencer, an escort aircraft carrier, when it joined an attack on the German battleship Tirpitz. He spent more than a decade in the Royal Navy and is a recipient of both the Arctic Star and the Burma Star.
James Docherty will be making his first journey back to Loch Ewe since World War Two. He remembers looking at the ship next to him, only to see his neighbour from Dalmarnock, Glasgow, looking back at him. He is a recipient of the Arctic Star and the Ushakov Medal.
Bernard Roberts, also known as Barney, served in the Royal Navy from 1942 and finished his service in 1947 on HMS Forth, in Rothesay. He spent time on mine-laying ships in the Arctic Circle and an application for the Arctic Star has been made. He has also received the Africa Star for his contributions in northern Africa.
A fourth veteran, Albert Lamond, 92, from Erskine, was unable to attend the trip due to illness. He is a recipient of the Arctic Star, the Ushakov Medal and is a Chevalier de la Légion d'honneur for his service to France during the invasion in World War Two when his ship acted as an escort to Bombardment Force D of the Eastern Task Force.
Sharon Higgins, deputy head of welfare services at PoppyScotland, said: "The route taken by the convoys was exceptionally dangerous, especially in winter, and conditions were among the worst faced by any Allied sailors during World War Two.
"In addition to battling the elements, many of the convoys were attacked by German submarines, aircraft and warships.
"No-one can underestimate the role played by the thousands of brave sailors who embarked on these perilous but pivotal missions."
'New lease of life'
The three men attending Sunday's ceremony at the coastal battery Rubha Nan Sasan, have become close friends. They are making the trip to the Highlands with the help of the Unforgotten Forces project, a collaboration of 15 organisations, which supports older veterans and their families in Scotland.
They will also enjoy a three-night stay in Gairloch as part of PoppyScotland's "Break Away" service.
Ms Higgins added: "We owe so much to veterans such as these and it is a privilege to be able to provide them with the opportunity to return to what will be for them such a poignant location."
Several wartime buildings, gun emplacements and anti-aircraft batteries still stand around the local landscape surrounding Loch Ewe and the Russian Arctic Convoy Museum project set up a dedicated exhibition centre in the village of Aultbea last year which the veterans will visit.
Hugh Henderson, chairman of Fares4Free, which is part of the Unforgotten Faces project, said: "James, Albert and Barney meet every week for afternoon tea at a centre for veterans in Glasgow, and, since the first coming together, all seem to have taken on a new lease of life."