Two new seasons of Outlander confirmed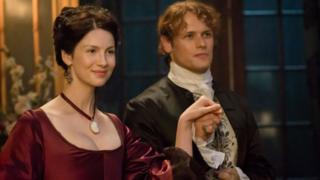 The makers of the Outlander television series have said they will make two new seasons of the show.
Based on books by the American writer Diana Gabaldon, four seasons of the show have already been made.
Scenes for the fourth season, which will air later in 2018, were filmed in Glasgow earlier this year.
Other Scottish locations have been used in the making of the show, including Cumbernauld, Drumlanrig Castle in Dumfries and Galloway, and Glen Coe.
Back in time
A reconstruction of a 1700s township at the Highland Folk Museum in Newtonmore, in the Cairngorms, has also been used for scenes in the series.
The popularity of the show is said to have increased visitor numbers at many of the Scottish locations, including Culloden Battlefield where the National Trust for Scotland is now hoping to offer the site's visitor centre as a "year-round" venue.
The Outlander stories follow Claire Randall, a World War Two nurse swept back in time from 1945 to 18th century Scotland, where she encounters Scottish soldier Jamie Fraser.
Their adventures take them to France and North America.