People asked to respect Moray Firth's wildlife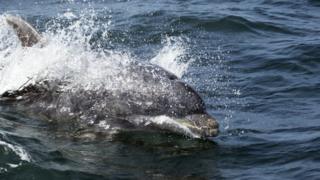 A campaign has been launched urging boat operators and watersports enthusiasts to respect marine wildlife in the Moray Firth.
The firth has a resident population of bottlenose dolphins and also provides a habitat for whales and porpoises.
Police Scotland said there were incidents last summer which saw boat operators moving their craft too close to a pod of pilot whales.
A kite surfer was also spotted allegedly disturbing feeding dolphins.
'Good photo'
Police are working with other organisations, including conservation bodies, on the awareness campaign.
Disturbing marine wildlife is a criminal offence.
Wildlife crime liaison officer Daniel Sutherland said: "We entirely understand that people will want to get a good view of dolphins and other marine life off the coastline.
"We do not want to discourage this but want to make sure people do so responsibly with respect for the wildlife.
"Last year we received an increase in reports of water users getting far too close to cetaceans, sometimes for a good photo, or because of a lack of awareness surrounding their protection, or sometimes just a complete lack of regard for their safety."