Appeal to save 'fragile' Fairburn Tower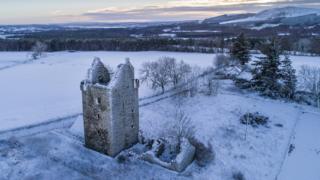 A ruined historic tower house is to be restored for use as a home under plans by a buildings conservation charity.
The Landmark Trust describes the Fairburn Tower, near Muir of Ord, as "precious" but "desperately fragile".
A large crack runs down one side of the ruin and it is cordoned off to keep passers-by safe from falling stones.
It was built in 1545 for Murdo Mackenzie, Gentleman of the Bedchamber to King James V, the father of Mary Queen of Scots.
The trust, which restores historic properties before renting them out as holiday accommodation, is trying to raise £800,000 towards the cost of conserving Fairburn Tower.
It is listed Category A, putting it within the top 7% of all listed buildings in Scotland.
Historic Environment Scotland, which considers the tower to be significantly at-risk, has accepted a grant application of up to £455,000 to support the charity's restoration project.
The tower fell into ruin following the end of the 1745 Jacobite Rising.
The Mackenzies had backed James Stuart, the Old Pretender, during the Jacobite rebellion in 1715.
After the defeat, the clan faced disgrace and the estate was confiscated by the Crown.
The tower was later restored but Laird Alexander Mackenzie declined to fight for King George during in 1745, saying he "was not brought up to be a soldier". By now the estate was in decline, and was eventually left deserted and to fall into ruin.
The tower is associated with the legendary mystic Kenneth Mackenzie, known as The Brahan Seer.
He prophesied that the Mackenzies of Fairburn would lose all their possessions and, after the castle had become uninhabited, a cow would give birth to a calf in the highest chamber of the tower.
In 1851, while the building was being used for storing hay, a cow is said to have wandered inside and climbed to the top of the tower where it gave birth to a calf.
The animals were left in the tower for almost a week to allow people to visit and see for themselves that the prophecy had been fulfilled.