Out-of-hours improvements at Skye hospital recommended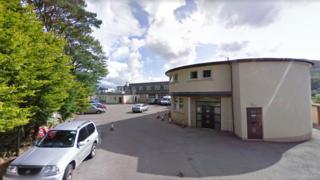 Out-of-hours urgent case access should be maintained 24 hours a day every day at Skye's Portree Hospital, experts have recommended.
NHS Highland has had issues maintaining the service due to staff shortages.
The experts said the Scottish Ambulance Service could help by increasing its paramedical capacity for Skye, Lochalsh and parts of Wester Ross.
NHS Highland commissioned the independent "external experts view" of urgent care provision in the area.
A team led by Sir Lewis Ritchie looked at whether the service for the health board's area of Skye, Lochalsh and South West Ross was designed and staffed in a way that meets patients needs.
Health Secretary Shona Robison has asked Sir Lewis to review NHS Highland's progress on the recommendations in six months' time.
In a new report, the expert panel has recommended that out-of-hours urgent case access at Portree could be better provided by:
The Scottish Ambulance Service increasing its paramedical capacity and capability, including by giving consideration to the re-deployment of fast response vehicle capability and deployment of paramedics on shift rather than present on-call arrangements
NHS 24 working with NHS Highland in developing a hybrid staffing role based at Portree Hospital, but could provide a service Scotland-wide
In-patient bed availability at Portree Hospital continuing until sufficient alternative resilient provision is provided in North Skye
While supportive of NHS Highland's strategy to provide more care at home, it was also recommended that further work be done to look at care at home and care home capacity especially in the North of Skye
NHS Highland has welcomed the view.
Chairman David Alston said: "NHS Highland will accept the recommendations, and will now move quickly to consider how, working with the community and our partners, we fully understand the workforce and financial implications in order to implement the recommendations.
"I was particularly pleased to see the public recognition for exemplary work of NHS Highland front-line staff to deliver safe and effective delivery of urgent emergency care services on a 24/7 basis.
"I hope having the assurance from a panel of experts, from across Scotland, that our services are safe provides some reassurance to local communities."
'Too much uncertainty'
Mr Alston added: "The expert panel's report highlighted the challenges that we face in delivering safe and sustainable services, particularly in North Skye. I know that our best hope at addressing these challenges is to do so together."
Residents in the north of Skye have been critical of hospital provision in their area and have held a number of protests calling for improvements.
Health secretary Ms Robison said the work of the expert panel had involved "substantial engagement with local communities".
She said: "I am pleased that NHS Highland have accepted every recommendation and I expect them to deliver on these in full. I have asked Sir Lewis to return in six months to review progress.
"In the meantime, I welcome the commitment from NHS Highland that they will work with the local people to shape ou-tof-hours services for Skye, Lochalsh and southern Wester Ross that are safe, sustainable and resilient."
Highlands and Islands Labour MSP Rhoda Grant said she was awaiting the publication of Sir Lewis' final report, which is expected later this week.
She said: "Receiving the final report will leave me in a better position to take in all the information, including Sir Lewis Ritchie's forward to the report, and then I can give a more rounded comment on what is a very sensitive issue.
"However, it appears the findings are a vindication for all those who have campaigned to maintain services in Portree and shows what people power can do."
Skye's SNP MSP Kate Forbes said the involvement of local communities had been "critical" to the expert panel's work.
She added: "The most important recommendation for me is that Portree Hospital remains open in order to ensure fair and equitable health care across Skye.
"There has been far too much uncertainty about the future of Portree Hospital which was demonstrably making recruitment and retention much more difficult."